Clinton House in the News
Clinton House celebrates Easter with community
Skilled Nursing Facility Kicks Off Month Dedicated to Cardiovascular Health Awareness
A local rehabilitation and healthcare center hosted its annual Easter festivities at its facility with activities for the youth in the county alongside the residents of the facility.
Clinton House Rehabilitation and Healthcare Center hosted its annual Easter egg hunt and celebration at its location on Freeman Street on Saturday with activities ranging from an Easter egg hunt to face painting. The festivities kicked off with an Easter egg hunt that involved various different age groups searching through over 1,000 eggs for eight coveted golden eggs that would award the recipient with a filled Easter basket.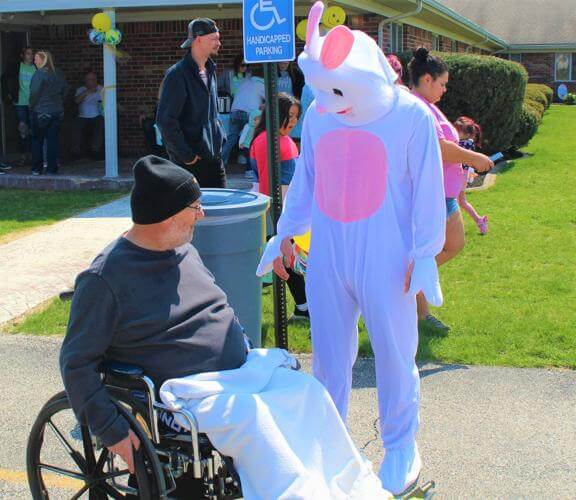 Easter Bunny visits with the residents of Clinton House.
Activity Director Trisha Gillis and Executive Director Tracy Wells stated that 300 eggs were hidden for each age group with an extra 50 eggs hidden for the older age groups. Gillis stated that the turnout for the event was exceptional with every egg being collected within a few minutes.
"It was full. I think almost every parking spot was full. They just kept coming and coming," said Gillis. "There were 1,000 eggs and they were picked up in two minutes, if that."
Clinton House received aid from numerous members of the community alongside staff members to create a memorable experience for the youth in the county as well as the residents at Clinton House. Gillis stated that the staff helped operate the snack and face painting station after helping with the filling and distribution of the Easter eggs, and community members supported the event through donations that helped the organization provide more exciting opportunities for the children to explore.
"We had a lot of residents' families donate the candy so much that we had to come and tell them to stop donating, so that was pretty cool," said Gillis. "Our Therapy Director is our Easter bunny. He wasn't given much choice, but he's being a good sport about it."
Gillis estimated a total of 100 to 150 children that attended the Easter egg hunt portion of the festivities with many children and families remaining at the facility to experience other activities, such as face painting. The residents of Clinton House also remained as a pivotal aspect of the festivities as they were permitted to roam around the area, enjoying themselves by speaking with their families, the youth of the county and the Easter Bunny.
Gillis stated that the Clinton House staff continued to hide 100 additional eggs inside the facility for the residents to embark on their own Easter egg hunt following the outdoor activities.
"I think I only heard people crying because they didn't want to leave, so I think they had a really, really good time, especially the ones who are still waiting after the egg hunt so that they could get their face painted," said Gillis. "I recognized a lot of faces from last year too, so I think they just kind of count on it every year to come back. Some of our residents are out here too, which is super fun. They're with their families or just enjoying it themselves."
Clinton House hosted a face painting station following the Easter egg hunt where visitors were allowed to choose between a few designs, including an Easter egg, a bunny face, flowers and more. The line extended toward the parking lot following the initial festivities as children, families and residents prepared to have their faces transformed with face paint.
The Clinton House staff operated the face painting station, allowing visitors to sport the designs without an additional cost as the Clinton House staff practiced their artistic skills with a variety of materials and colors. Gillis stated that the main alteration for next year's Easter festivities will include an additional face painting station to accommodate the high volume of community members in attendance that were vying for the opportunity to receive a colorful design.
"It's always been done," said Gillis. "I was not the activity director last year, but I know that they did it, so I just kind of went with what I knew was the biggest attraction last year."
Wells stated that the Easter celebration continues to be a welcomed community event for the Clinton House staff and the residents that experience the Easter season through youthful eyes as the children race toward the designated areas in search of candy and prizes. The Clinton House will continue to host its seasonal community celebrations and events, such as the car show that will occur in May.
"We do it every year. We do this, we do the car show, in the fall we have fall festival, at Christmas we've got Santa and hot chocolate. Every season we do a community event," said Wells. "It's always really great."
Wells stated that the car show will be hosted toward the end of May and will include snacks, music, cars, awards and more for the community to explore at 809 W. Freeman St. in Frankfort. Further information will be released as it becomes available.
About Clinton House Rehabilitation & Healthcare Center For more information or to inquire about upcoming events, contact Clinton House at 765-654-8783 or visit the organization on Facebook at Clinton House Rehabilitation and Healthcare Center.